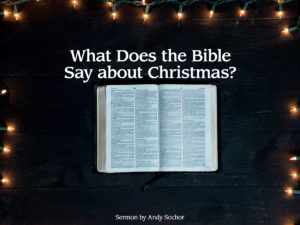 Text: Matthew 1:20-25
Christmas is one of two main "Christian" religious holidays (the other is Easter). It is so common that people take it for granted and never give a second thought about it. But what does the Bible actually say about Christmas? Is it part of our service to God or something else?
The Bible Says Nothing about Christmas
Christmas is viewed by many as a religious holy day to celebrate the birth of Christ
The word "Christmas" is not in the Bible – this by itself does not make it wrong, but it should give us pause
There are no instructions regarding the celebration of Jesus' birth – we are to act by authority (Matthew 21:23-27); the Scriptures equip us for EVERY good work (2 Timothy 3:16-17)
There are no examples of this type of celebration in the NT church – the only commemoration in the early church was the Lord's Supper (Acts 20:7); this was done in keeping with Jesus' instructions (Matthew 26:26-29; 1 Corinthians 11:23-26)
So it is odd that Christmas services are among the most popular and well-attended in the religious world
The Origin of Christmas
December 25th was first suggested to be the day of Jesus' birth in 221 AD – by Sextus Julius Africanus (180-250)
The first Christmas celebration was in Rome on December 25, 336 – December 25th was the winter solstice on the Roman calendar; according to Augustine (354-430), Jesus chose to be born on the shortest day for symbolic reasons
It was briefly banned by Puritans in England in the 17th century due to the holiday's association with drunkenness and other sins
A 2010 survey by LifeWay Christian Resources found that 6 in 10 Americans attend various "Christmas" church services
The Importance of the Birth of Jesus
The birth of Christ was prophesied and fulfilled (Isaiah 7:14; Matthew 1:20-25) – this is something to build our faith
His birth was also an essential part of the scheme of redemption (Hebrews 2:14-15; 9:14; 10:5, 10) – so He was sent at the fullness of time (Galatians 4:4)
We are to teach the whole counsel of God (Acts 20:27) – this includes the incarnation (John 1:14)
Should We Celebrate Christmas?
As a church? … No – no authority to do so (Colossians 3:17; Matthew 7:22-23; Ephesians 5:24)
As an individual participating in a religious celebration? … No – again, no authority to do so (Colossians 3:17; Galatians 4:10-11)
As an individual simply reflecting on the Bible teaching about the birth of Christ? … this can be done anytime – part of Bible reading, study, and reflection (2 Timothy 2:15; Psalm 119:97)
As individuals observing a national holiday? … time with family, exchanging gifts, etc. – this is up to us as a matter of liberty (Romans 14:5-6)
Responding to the Religious Observance of Christmas
We do not need to participate (Romans 12:2) – if something goes beyond what is authorized, we cannot join in with that (2 John 9; Ephesians 5:11)
We do need to be patient (Titus 3:2-3) – many are sincere and simply do not know any better/different; those who are sincere are teachable (cf. Acts 18:24-28; 23:1)
We can be thankful that people are thinking about spiritual things (cf. Philippians 1:18) – anytime there is common ground, there is an opportunity to teach (Acts 17:22-23)
We can take advantage of opportunities to teach – we preach Christ crucified (1 Corinthians 1:23); answering questions as to why we practice or don't practice certain things (cf. 1 Peter 3:15)
Conclusion
Holidays and holiday seasons are good times to spend with family, appreciate blessings, etc.
Every day is good to remember Christ and serve Him according to His will